Have you wondered about what assists propel a vehicle forward? Do the electronics, technicians, and additional systems involved in automobile function leave you fascinated? Then a profession in automotive technology might be great for you!
The basics of automotive engineering course
The automobile engineering course is a division of automobile engineering with its course focused on the manufacture, design, and operation of vehicles like buses, motorbikes, cars, and trucks with elements of electrical, mechanical, software as well as safety engineering incorporated into it. Automobile engineers work in any area of the industry, from design, security to the feel of current cars and the safety of any new forms of transport.
Manufacturing a vehicle goes as fast as a sports car but having the fuel efficiency of Toyota might look like an impossible task but that is the sort of issues automobile engineers face each day.
Fields of Automobile Engineering course
These are a few of the main fields covered in a car engineering course:
Automotive R and D – in the industry of technical training of mechanical engineering, you'll be faced with millions of issues and you'll be taught how to find the right solutions to engineering issues.
Automotive design – This field of auto courses involves learning how to design new machines and enhancing existing ones.
Automotive technology – we are living in a fast-paced time with advanced technologies being innovated each day. In this field, you'll learn how to incorporate modern technology that'll relevant and helpful for the automotive sector.
Automotive production – Some cars are built by hand while a few by robots. As a car engineer, you'll also be educated in production operations to assist in smoothening the operation while delivering cost-saving to users.
Several of the fields that you'll learn are made to expose you to the numerous fields in this market and as you progress you'll learn more and more about the market to help you become a successful car engineer when you finish your engineering course in Malaysia.
How does your training pathway look like in automotive college?
Automobile engineering degrees are normally 3-4 years long. Though if you decide to do a diploma in automotive technology, it's normally 2 to 2.5 years long!
What'll you study in the automobile course?
Car engineering courses are normally tailored to give you a huge range of industry-related knowledge. Upon completion of your diploma, you'll be ready to enter the market and immediately apply your skills set that you have learned. In the 1st year, you'll typically about the basic of vehicles and be taught some basic science subjects such as:
Intro to Automotive Technology
Engine Mechanical
Engine Systems
Steering Systems
Chassis Systems
Engineering Drawing
Automotive Electrical Systems
Physics 1
Chemistry 1
In your 2nd and 3rd year, you'll be given lessons on a more in-depth understanding of car engineering while learning more complex mechanical and electronic automotive works. Subjects that you'll normally be needed to study are:
Fuel System Dynamics
Automotive Braking System
Diesel Engines
Strength of Materials
Thermo fluid Laboratory
Thermo fluid
Chemistry 2
Turbochargers and Emissions Systems
Most institutions include a semester where you'll undergo industrial training at factories and workshops. This is where you will get to have the hands-on experience to practice and apply the knowledge you have obtained.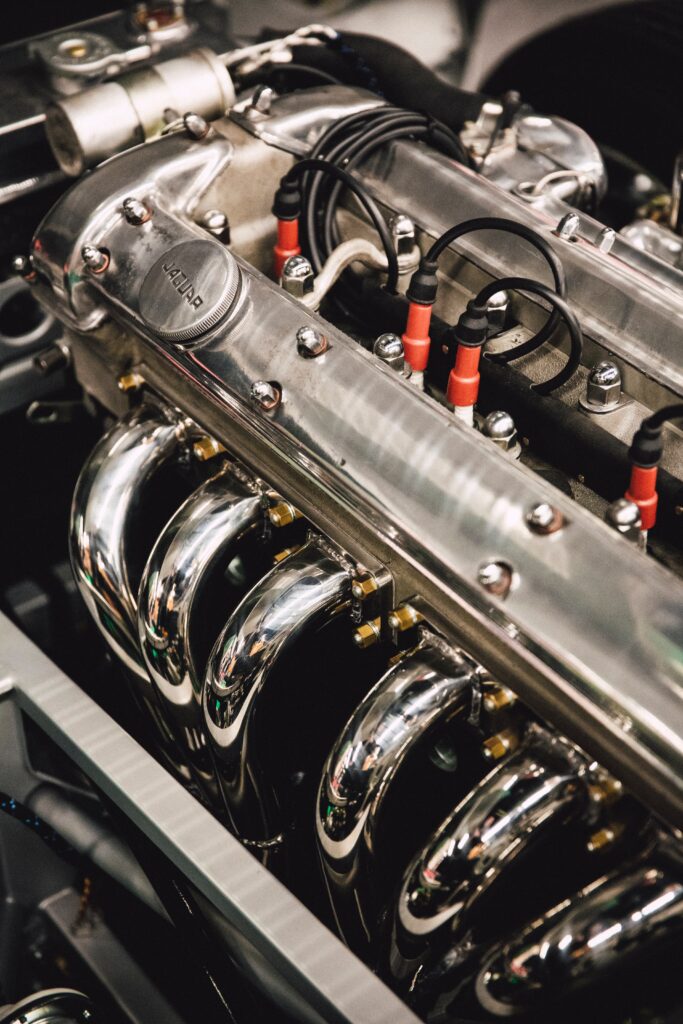 Why should you Study automotive technology?
Auto engineering is a fun and rewarding career for anybody who has interested in vehicles. Here're some reasons why you'd study car engineering.
Be a part of the future – Whether you are designing new cars or innovating advanced technologies for them, you can be sure that your works will be a part of the future that's to come. You can be certain that you will never be sitting in an office doing official procedure and your career scope will be an exciting one as a automobile engineering accommodate.
Ever growing market – The automobile market is huge and humans are looking for ways to go faster in more effective ways, automotive training academy will be key to helping this vision come true. Your skillset will be required in almost every country and you would not have a hard time seeking a profession wherever you're.
Work at high-status companies – Ferrari, Lamborghini, Mercedes Benz, BMW sounds familiar to you? Surely they do! These are of the high-class automobile manufacturing companies in the world. They make some of the finest vehicles out there, and as a car engineering graduate,  you will have a chance to work at these giant companies, and use your knowledge and skills to help them do what they do best!
The sound of a revving engine keeps you upbeat at night – Literally. You cannot sleep. It echoes in your eardrums. The noise of a hurricane, revving your great enthusiasm, rotating your head at 5 thousand RPM. An engine with the strength of thousand horses makes you want to go wild. Yet, the single thing you want to know is how it is made.
Racing into the Next world – Yes, you've racing thoughts about this, about engineering a vehicle that takes you back to the future. Okay, maybe not. Though, you'll be at the forefront of design and innovation that'll see the development of advanced technologies.
Your thoughts race with some cool ideas for cool vehicles, and you'll have the chance to engineer and build them. Sometimes, these racing thoughts scare you, but you do not care about that. You discard those fears and carry on. Yes, drive toward your passion. Make it your profession!
Automotive engineering course in Malaysia
If you are interested in servicing cars and vehicles, the diploma in automotive technology will fulfill your needs and goals by giving you the abilities and skills needed to work in this biggest industry. This diploma in automotive engineering refines your knowledge so that you can analyze, diagnose, design, manufacture, and modify car electrical and mechanical systems.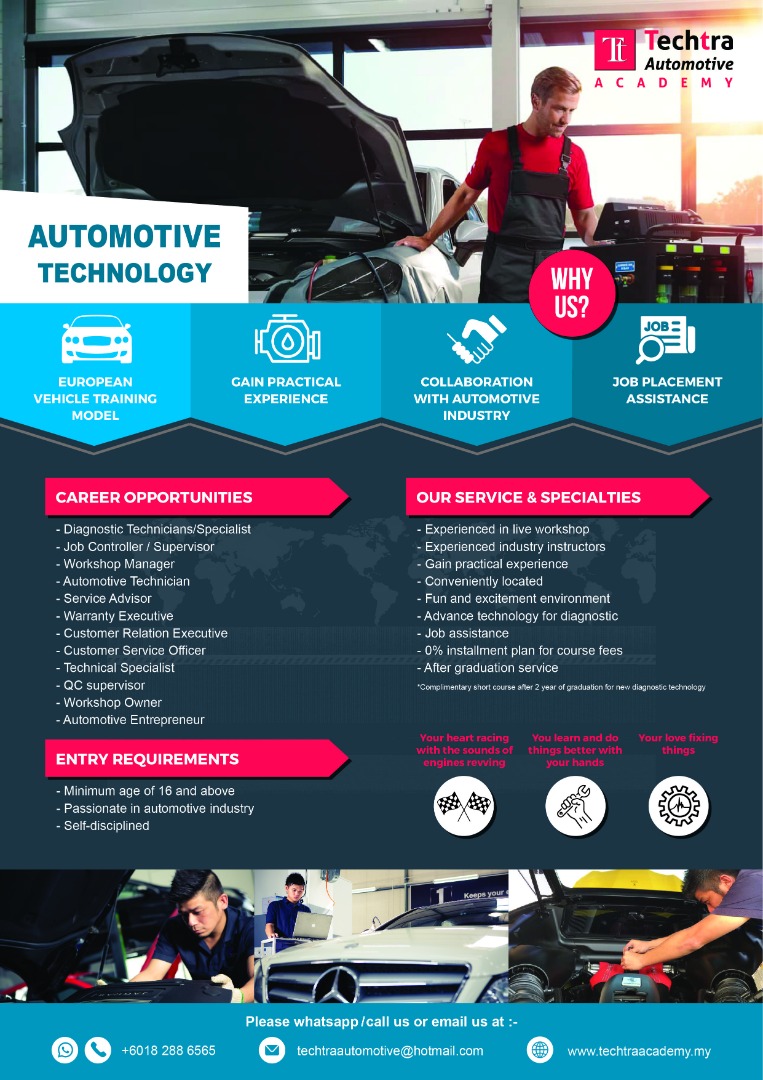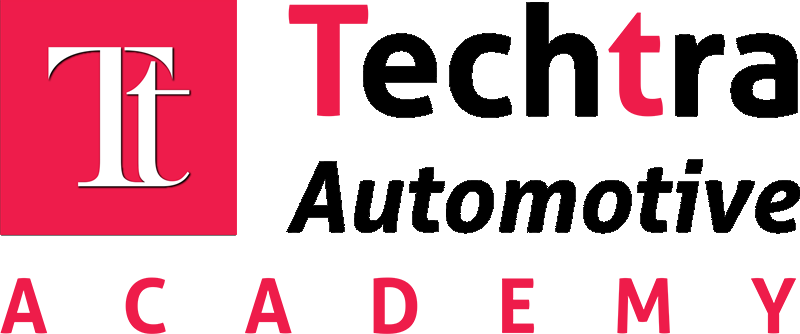 Contact us
Techtra Malaysia ( Tri Taycan Sdn Bhd )
Address: 65, Jalan TPK 2/8, Taman Perindustrian Kinrara,
47180, Puchong, Selangor, Darul Ehsan, West Malaysia.
Tel: 018-288 6565
Email: [email protected]
Website: https://techtraacademy.my
Location: https://g.page/r/CYSp7PPQ7OJvEBA